By Hesham "Red dragon" Bahhur
In the recent times, we have begin to see more released titles, new features to next generation consoles, and gamer created ideas that are either considered or used by current developers. In my busy schedule, I managed to gather enough spare time to take a close look at some new and old titles and review them.
Assassin's Creed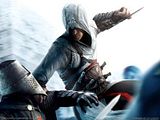 This game is different in a way from most other adventure games that i have come across. Most adventure games you can figure out the story line either right around the beginning or around the middle. With this game, you don't figure out whats going to happen until you reach the last chunk of the game. The graphics are very well put together and the story line is good as well. One of the things that i started to notice off bat about this game is that what you do in the game is just about the same thing over and over again until the end of the game. Repitiveness is something that kill a game very easily. They made it look very nice in terms of graphics and advertising the game.
Trailors were very well put together and there is enough freedom for you to do what you want to do, how you accomplish a mission, and when are you going to accomplish it. The other thing that I noticed about the game was they did a good job masking the real storyline in the game with the advertisments. They made it sound like it was going to take place in a previous time but it was something different than any of us would have expected.
My rating: 7/10
Call of Duty 4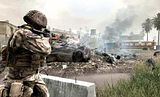 At first, when I have seen this game i thought, "ok, another army game, big deal." Apparently I was wrong. They always say not to judge a book by its cover. When I first started playing this game, I went right into the storyline. The graphics is really well put together and I give credit to them for that. To me, It seems as if the graphics match the console or all games should have this level of graphics put into them. Gameplay is well put together and the multiplayer isn't bad. It can be better but the campaign pickes up for it.
Im usually not a fan of army games but this one is the game I will make an exmention for. This game is really nice to play in surround sound too. Makes the game feel a little more realistic. I never actually got to see any trailers for the game but the into for it was very well done. The game also could use some tweaks here and there but not much more than that.
My rating: 6/10
Soulcaliber IV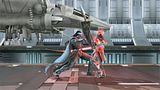 Soul Caliber IV made its debut and people from various fighting communities were talking about it. Some fighter players left their current fighting game to go to this game, espically some of the dead or alive fighting fans. A lot of people were talking about this game saying things like "DOA will die once this game comes out" or "soul cal is is going to be in the next cgs." While i was out of town for the weekend of the GVN summer bash, my kid brother went out and bought this game and I decided to take a look at it once I got back into town.
Soul Caliber IV is a weapon based fighting game where you can perform various attacks and defense moves. It various depending on who you choose as a character. In a recent release, they added darth vader to the xbox 360 version of the game. When i started playing this game, I noticed that the game had its major faults that would prevent the game from staying as a big title. They key problem is the online lobby system. When you make a online lobby, you cannot change game settings without making a brand new lobby. I also noticed that if you enter a room when the other players are in a fight, you cannot hear them and they cannot hear you. That is just a few problems that I had with this game. Overall, the game is somewhat well put together. It has its major flaws and its time when it shines.
My rating: 8/10